As the United States continues to grapple with issues related to systemic racism and inclusion, government procurement finds itself center stage. Born of the 1960's civil rights movement, government diversity programs were kickstarted in 1971 when President Nixon created the Office of Minority Business Enterprise. He further moved the initiative forward with the issuance of an executive order directing federal agencies to develop comprehensive plans and specific program goals for a national minority business enterprise (MBE) contracting program (Larson, 2020). That definition has expanded to include small-business enterprises (SBE), woman-owned enterprises (WBE) and disabled veteran-owned enterprises (DVE). The U.S. Small Business Administration estimates there were 8 million minority owned businesses in 2018, generating 2.2 million jobs and $49 billion in revenue for local, state and federal governments (Alexis Bateman, 2020).
So how can agencies continue to help expand supplier diversity in the present? While not readily apparent, a classification taxonomy like the NIGP Code can help agencies identify opportunities, recruit suppliers, and measure success. The NIGP Code is a classification taxonomy that provides a mechanism for entities to classify the suppliers, procurement types, and inventory using a standardized hierarchy. Since the mid 1980's the NIGP Code has been used extensively by state and local governments to classify and report on procurement activities. But how does that help supplier diversity? Peter Drucker is credited with the saying, "What gets measured gets managed." The NIGP Code becomes the measuring stick for supplier diversity within the organization.
Often in discussions with agencies, supplier diversity is viewed in relation to total spend as a pie chart. A goal of NN% is set either through statute or common agreement. If the total percentage meets that goal, success is declared. While technically accurate, it can create a spend "gerrymander" where MBE spend may be packed into a small band of spend categories and grossly underrepresented in other areas. Using the charts below, if the agency uses only total spend, it misses out on visibility of spend with MBE suppliers by spend category. Classifying spend using the NIGP Code provides visibility across spend categories and provides a window to identify categories where supplier diversity is needed.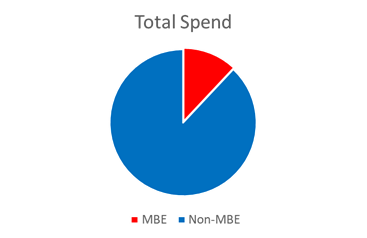 Once supplier diversity deficiencies are identified, the task of recruiting suppliers begins. Recruiting a diverse supplier base is not a one-time event, rather it is an ongoing, intentional effort. The effort extends beyond the procurement staff, to the end user departments that interact with the supplier community as well. User departments must understand that having a diverse supplier base is an asset to the organization. It not only creates an environment of greater participation, but also reduces the potential for supply chain shocks, and it increases competition which drives value for the organization. In some cases, local diverse suppliers may not be available, which may require reaching out regionally or nationally to recruit suppliers to the process.
By classifying spend using the NIGP Code, the organization creates a data source that can be used to cross match spend by supplier, by NIGP Code, and by MBE/WBE/SBE status. Questions can be asked of the data including:
What is the depth of supplier diversity within spend categories?
What is the level of solicitation participation by spend categories by diverse suppliers?
What is the success rate of diverse suppliers for solicitations by spend category?
What is the participation level of diverse suppliers as subcontractors on projects?
What is the level of participation by diverse suppliers on contracts?
What is the level of spend with diverse suppliers by spend category?
Beyond the "feel good" factor of promoting a diverse supplier base, concrete benefits are evident, especially during the COVID-19 crisis. From the Harvard Business Review, "An inclusive procurement strategy widens the pool of potential suppliers and promotes competition in the supply base, which can improve product quality and drive down costs. And by providing more sourcing options, inclusiveness can make supply chains more resilient and agile — an increasingly important advantage in these uncertain times." (Alexis Bateman, 2020). These efforts point to supplier diversity efforts as a journey, not as a destination. Intentional policies and actions by procurement and public organizations as a whole, are required to make meeting these goals a reality.
About the Author:
John Walters is a co-founder of Periscope Holdings, Inc. and serves as NIGP Program Director. For further information on the NIGP Code Program, please visit the NIGP website or contact John Walters at jwalters@periscopeholdings.com.
Sources
Alexis Bateman, A. B. (2020, August 17). Why You Need a Supplier-Diversity Program. Retrieved from Harvard Business Review: https://hbr.org/2020/08/why-you-need-a-supplier-diversity-program
Larson, M. (2020, December 19). Retrieved from CVM Supplier Diversity Blog: https://blog.cvmsolutions.com/how-supplier-diversity-is-going-global#:~:text=Rooted%20in%20the%20Civil%20Rights,goals%20for%20a%20national%20minority